MERZOUGA & ERG CHEBBI DUNES
For your vacation in the Sahara desert, we offer you a variety of activities that you will be excited to do. We have the top outdoor activities in Merzouga and Erg Chebbi Dunes.
What activities can you do in the desert?
Find out what activities you can enjoy in the real Sahara Desert below.
WALKING ON THE DUNES
Get ready! go walking on these golden dunes of Erg Chebbi. Let your feet feel the softness of the sea sand of the Sahara desert. Go deep and feel the quietness and tranquility.
CAMEL RIDING
Make your dream come true and get on that camel, let it take you slowly across the sea sand dunes and get closer to the highest ones. Take precious time to watch that sunset or sunrise. Treasure those beautiful moments with your loved one. Get to know more on this web page: Camel Treks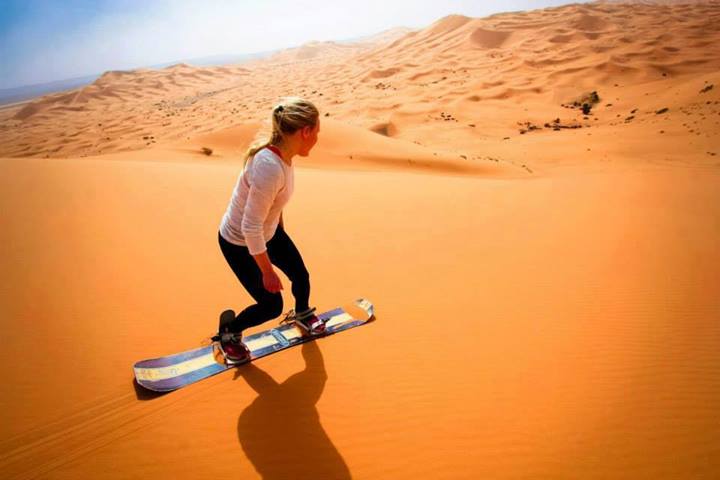 SANDBOARDING
Contact us to see what we can do for you.  We can help you by giving you free advice, or you can join us on a retreat.
Excursion around the dunes by 4×4 
Explore the isolated desert on a 4wheels vehicle, get to see fossils on the black rocky desert, Bedouin family living in a traditional nomad tent, visit Khamlia village for Gnawa music. Walk-in Hassi Labied Oasis palm groves. Click to See detailed Day Excursions and Book this day trip to cover all these.
4wheels / Quad  biking – Buggy
Experience the Sahara desert on Quad/ATV. Drive for an exciting hour in the sand dunes of Erg Chebbi. For pricing, please contact us or give us a call.
SAND BATHING
If you can bear the heat, then a sand bath in July – August will be a healing for your body from cold and rheumatism. Please check with your doctor before you do so.
Breath-taking experience in the Sahara! After a long but pleasant journey, we arrived to the entry of the dunes were we hopped on, to and adventure we will never forget! We won't explain the details so that you can discover this amazing experience by yourself.
"Youssef and Mohammed, Both are great hosts and very agreeable companions of our tour and with their excellent organization and intense experience we felt very safe. These guys really care about making everybody have a fantastic time. We can't wait to be back, it definitely was the highlight of our trip to Morocco!."
Sahara Desert Trips and Morocco Tours
With SAHARA DESERT CAMPING , you can easily create your perfect SAHARA DESERT TRIPS based on your preferences, budget, and style. Save up to 15 %!
Experience a camel ride across the astonishing dunes of Erg Chebbi.
The things to do in Merzouga are described in this page and you can select the one that intense you.
Sahara Desert Camping offers the following activities/services (charges may apply):
ATV/Quad Bike (additional charge)
Sand-boarding
Walking tours
Day Tour Around Dunes by 4X4 vehicle
The animals that live in the Sahara Desert include: desert fox,desert rat,camel,donkeys